OBJECT BOTANICAL
9 Graphite Works on Papers by Devra Fox
Sarah Brook Gallery is pleased to present "Object Botanical," an online exhibition of nine graphite and walnut ink works on paper by San Francisco-based artist, Devra Fox. Each of Fox's delicate compositions present forms we recognize as floral though in Fox's treatment, these organic forms become more sculptural, more anthropomorphic, and more alien.

Fox has described her interest in human strategies to cope with transition, transformation, and our lack of control on these constant changes. We give each other beautiful flowers to celebrate achievements or mark important dates, knowing of course that these congratulatory symbols will wilt and die. These mortal properties are obscured in Fox's works, where flowers are not quite flowers but instead appear as fuller, fleshier versions of themselves. This bodily rounding out of leaves and petals muddies the boundary between plant and animal – both of which are subject to nature's controls and chaos.

The central node of the flower (called the "ovary" after its reproductive function) often resembles a spherical pebble in Fox's meticulously rendered drawings. Fox has spoken of the Jewish tradition of leaving a pebble on the graves of the dead to symbolize the eternalness of the soul. In these works, the pebble and the stem and the flower are all equalized, all plumped up to similar proportion, in effect nullifying the rules of engagement. The components here are at once single and multiple, often their points of connection seeming to reveal total autonomy: are these autonomous beings or a network of beings? These creature-plants, lovingly articulated against a void, exist in a Beckett-esque Theater of the Absurd: single-multiple organisms of unknown origin that do not broadcast their next existential move in a way we can recognize. Existence in Fox's work is both luscious and solitary, uncanny and mystical.

Nestle, 2021
Devra Fox
Graphite and walnut ink on paper
10 x 11 / 12 x 13 in
SOLD
Carried
, 2021
Devra Fox
Graphite and walnut ink on paper
7 x 10.5 / 9 x 12.5
SOLD
Dependent 2021
Devra Fox
Graphite and walnut ink on paper
9 x 10 in / 11 x 12 in
SOLD
Double Over, 2021
Devra Fox
Graphite and walnut ink on paper
7 x 10.5 in / 9 x 12.5 in
SOLD
Hung Up, 2021
Devra Fox
Graphite and walnut ink on paper
8.5 x 10 in / 10.5 x 12 in
SOLD
Prop, 2021
Devra Fox
Graphite and walnut ink on paper
6 x 10 in / 8 x 12 in
SOLD
Suspended, 2021
Devra Fox
Graphite and walnut ink on paper
10 x 11 in / 12 x 13 in
SOLD
Swept, 2021
Devra Fox
Graphite and walnut ink on paper
5.5 x 10 in / 7.5 x 12 in
SOLD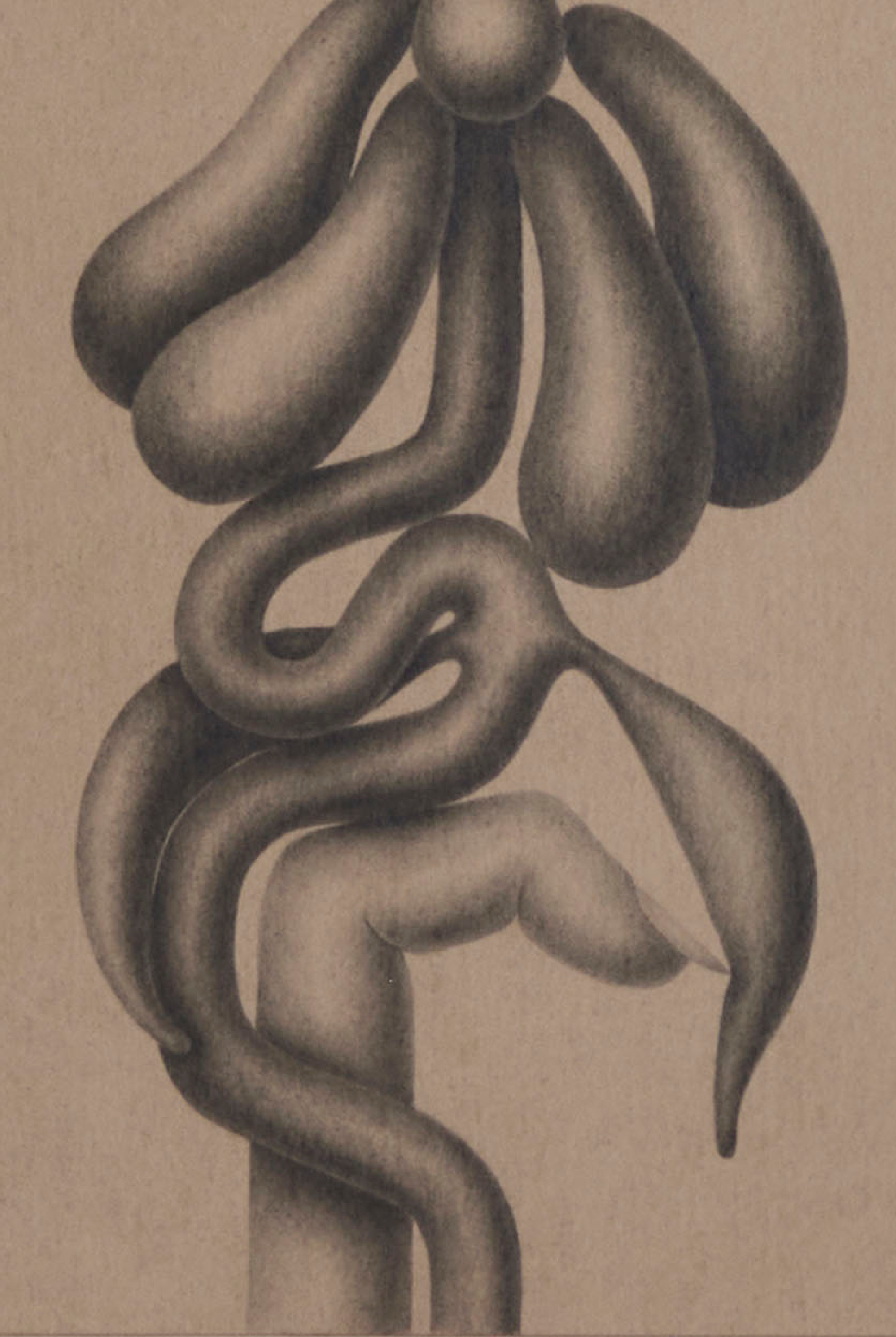 Bearing
, 2021
Devra Fox
Graphite ink and walnut on paper
8 x 10 / 10 x 12.5
SOLD