TIME AS TEXTURE
Works on paper and assemblages by Cheryl Humphreys
Sarah Brook Gallery is pleased to present "Time as Texture," comprised of sixteen works on paper and assemblages by Los Angeles-based artist, Cheryl Humphreys.

With "Time as Texture," Humphreys reconsiders the linearity of an artist's 'progress.' In many of the works presented here, the artist incorporates materials from a vast archive of what she terms her "artifacts:" experimental fragments, color samples and other reference pieces. As a printmaker, Humphreys is inherently fluent in the loopy and repeated language of imprints and layers. For example, she makes a "ghost print" after each initial printing, which pulls the last inks off of her print matrix and makes a pale "double" of the works in her flat files. Literally weaving and quilting these myriad elements together, the artist takes up her rigorous and intricate relationship with process as a material unto itself. In this way, she calls our attention to time's connective web-shaped form, plugging us into recurring ideas and themes from our past experience that will inform (and reinform) our present and future.




Humphreys' practice is organized not just around arrival at finished form, but rather in the physical performance of making and deciding and remaking and deciding and editing. Dyeing and printing processes often exert sequential pressures on the artist, who must prepare her support papers for hours in advance to enable them to absorb natural pigments such as indigo and avocado, then expose them to these pigments for hours, then, in this case years later for some fragments, on to the processes of embossing, inking and assembling anew.

Like Eva Hesse's studioworks, which were experimental forms later deemed essential to her oeuvre, "Time as Texture" investigates the sovereignty of the parts that form the whole, as well as how harmony is achieved not only in a completed piece but across several pieces and across several years-worth of creative outputs. Humphreys' transmutable and expansive works act as a kind of Fibonacci sequence, grown ever-outward by time, consideration, interaction and methodology.
Diversion, 2020-1
Cheryl Humphreys
Marigold, iron, dye, ink and emboss on paper
16 x 12 / 18 x 14.5 in
SOLD
Temple II, 2020-1
Cheryl Humphreys
Ink and dye on paper
24 x 16 / 26 x 18 in
SOLD
Deep Touch, 2019-21
Cheryl Humphreys
Indigo and ink on paper
9 x 18 / 11 x 20 in
SOLD
Equipoise, 2020
Cheryl Humphreys
Emboss on handmade paper
22 x 22.5 / 24.5 x 25.5 in
SOLD
Juncture, 2021
Cheryl Humphreys
Emboss on handmade paper
24 x 16 / 26 x 18 in
SOLD
Time as Texture, 2019-21
Cheryl Humphreys
Marigold, indigo, iron, dye, logwood, wattle and emboss on paper, handmade paper
36 x 26 /39.5 x 29 in

SOLD
Ceremony, 2020-1
Cheryl Humphreys
Ink and dye on paper
24 x 16 / 26 x 18 in

SOLD
Plunge, 2020-1
Cheryl Humphreys
Indigo and ink on paper
21 x 13.5/23 x 15.5

SOLD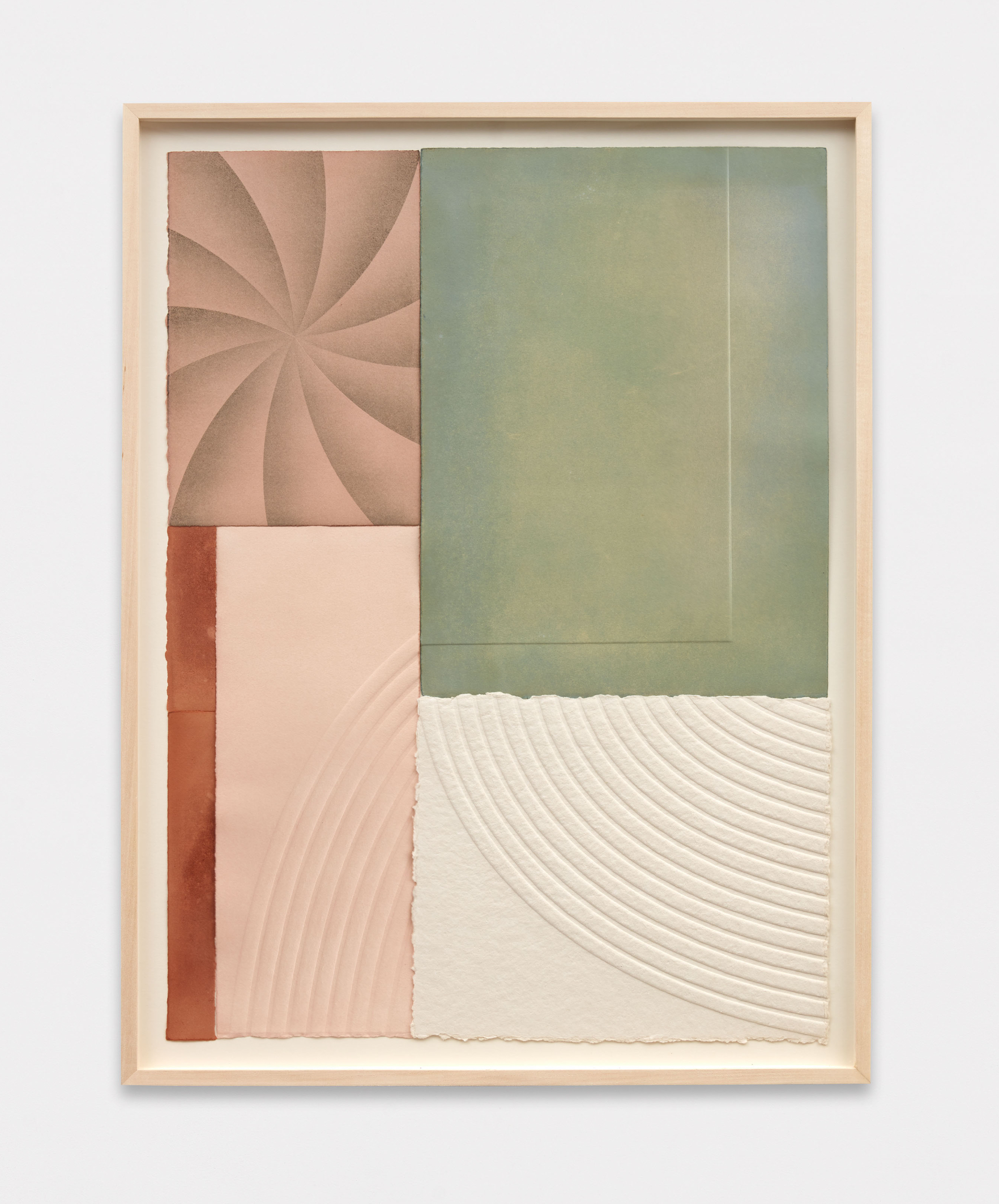 Zephyr, 2020-1
Cheryl Humphreys
Avocado, indigo, dye, ink and emboss on paper, handmade paper
28.5 x 21 / 31 x 24 in

SOLD
Dwell, 2020-1
Cheryl Humphreys
Ink and dye on paper
21 x 13.5 / 23 x 15.5 in

SOLD
Centering, 2021
Cheryl Humphreys
Emboss on handmade paper
18 x 12 / 20.5 x 14.5 in

SOLD
Sun Dance, 2020-1
Cheryl Humphreys
Ink and dye on paper
27 x 13.5 / 29.5 x 16 in
SOLD
Temple, 2020-1
Cheryl Humphreys
Ink and dye on paper
24 x 16 / 26 x 18 in
SOLD

Plateau, 2021
Cheryl Humphreys
Ink and dye on paper
34 x 34 / 38 x 38 in
SOLD