CAROLE
EBTINGER

TOUS MES
JARDINS

June 28 - July 29, 2023
Opening Wednesday, June 28th 6–8pm




"La rose est sans pourquoi, elle fleurit parce qu'elle fleurit; Elle n'a souci d'elle-même, ne demande pas si on la voit."

The rose is without reason, she blooms because she blooms; She pays no attention to herself, asks not if she is seen.

- Angelus Silesius

Sarah Brook Gallery is thrilled to present Tous Mes Jardins, the debut US solo exhibition of Brussels-based artist Carole Ebtinger. The show opens on Wednesday, June 28th, and will be on view through July 29th.

Throughout the exhibition, we drift through deep nebulous grounds of pastel pigments punctuated by sharp pastoral marks that crescendo as minimalist notes on rhythm, tone, and emotion. The poet and philosopher Paul Valéry described a poem as "a prolonged hesitation between sound and sense." The warm silence of Ebtinger's enigmatic images allows the slightest embellishment of floral strokes to give us the most, by saying the least.

Ebtinger intuitively builds Impressionist surfaces that are at once intensely meditative and fraught with fervent detail and mark-making. Her upbringing in Vietnam, France, and Belgium is excavated through the tactile emotion in her work while allowing them to simultaneously confront the traditions of her artistic ancestors, such as Monet or Cézanne. Symbiotic dances of color and complement harmoniously skip from her palette. Washes of translucent moss take hold upon lavender blossoms and radiant poppies, testaments to murky resilience and rebirth. The rich surfaces of the thirteen paintings displayed in Tous Mes Jardins embody a timeless commitment to the act of creation and reward the viewer with a palpable connection to an artist's deep seeded and irremovable devotion. During a formative discussion on art and philosophy between Ebtinger and her father, he once said to her, "La rose est sans pourquoi…."

Carole Ebtinger (b. 1995, Vietnam, raised in Strasbourg, France) received her BFA and MFA from La Cambre art institute in Brussels, Belgium. She recently held a solo exhibition at BOZAR, Brussels, and has participated in numerous group exhibitions, including Barbé Urbain Gallery, Gent; South Parade, London; and New Exhibitions, London. In 2021 she was awarded the Eeckman Art Prize by Art on Paper, Brussels.
Tous mes jardins XII Less Than a Moment,
2023
Pigment, ink, pastels on paper
45 x 33.5 in / 46 x 34.5 in
Tous mes jardins VIII
, 2022
Pigment, ink, pastels on paper
45 x 33.5 in / 46 x 34.5 in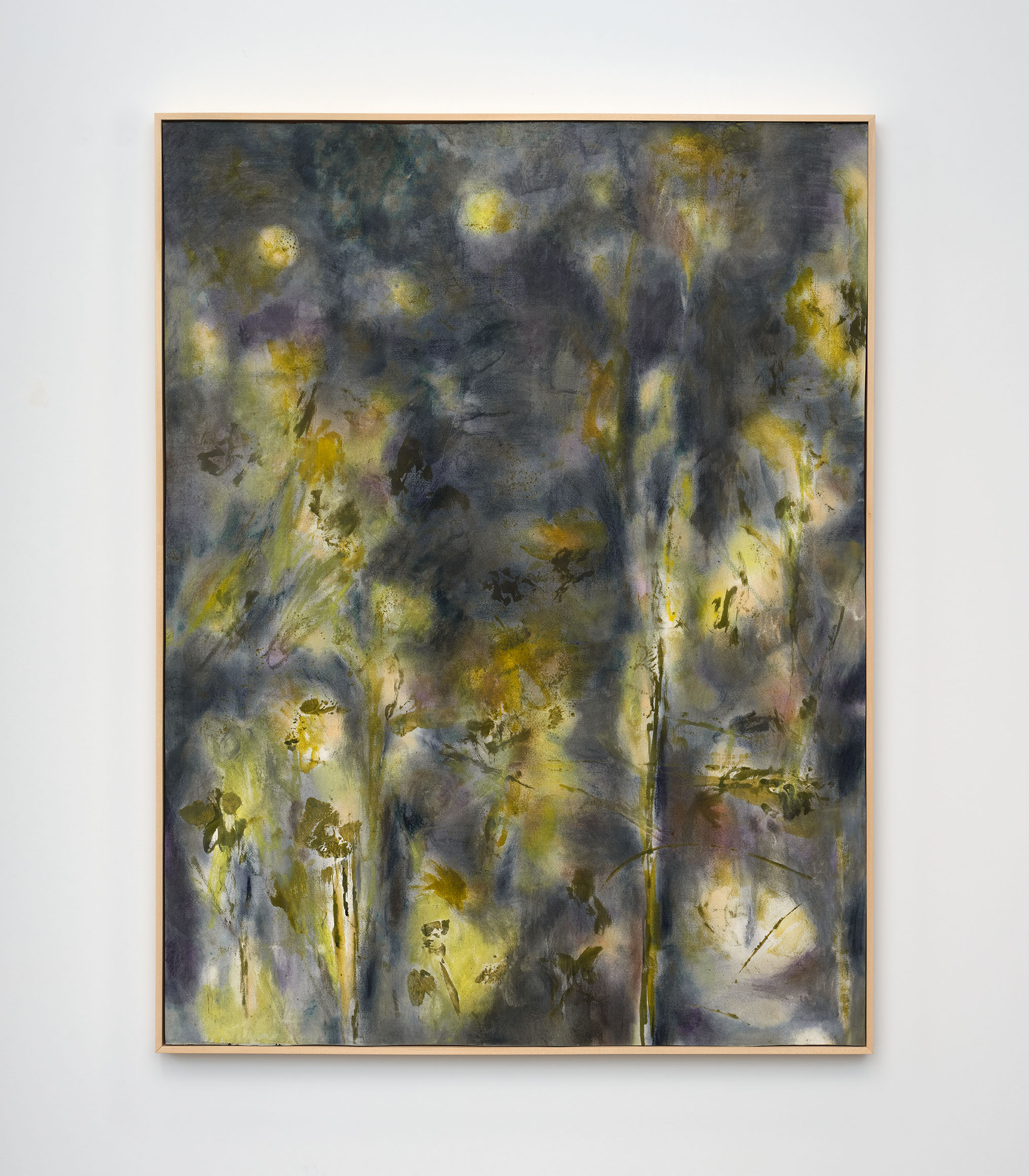 Tous mes jardins XIII,
2023
Pigment, ink, pastels on paper
51 x 38.5 in / 52 x 39.5 in
I call for sadness,
2021
Pigment, ink, pastels on paper
44 x 33 in / 45 x 34 in
Tous mes jardins VI,
2022
Pigment, ink, pastels on paper
45 x 33 in / 46 x 34 in
Tous mes jardins IX
, 2022
Pigment, ink, pastels on paper
53.5 x 39.5 in / 54.5 x 40.5 in
Tous mes jardins XIV,
2023
Pigment, ink, pastels on paper
51 x 37 in / 52 x 38 in
Tous mes jardins IV,
2022
Pigment, ink, pastels on paper
44 x 33 in / 45 x 33 in

Tous mes jardins X,
2022
Pigment, ink, pastels on paper
44 x 33.5 in / 45 x 34.5 in
Tous mes jardins XI,
2023
Pigment, ink, pastels on paper
45 x 33 in / 46 x 34 in
Tous mes jardins XV
, 2023
Pigment, ink, pastels on paper
45 x 33 in / 46 x 34
Tous mes jardins XVI
, 2022
Pigment, ink, pastels on paper
53 x 41 in / 54 x 42 in
Tous mes jardins VII,
2022
Pigment, ink, pastels on paper
45 x 33.5 in / 46 x 34.5
Tous mes jardins V
, 2022
Pigment, ink, pastels on paper
45 x 33 in / 46 x 34 in
Tous mes jardins III
, 2022
Pigment, ink, pastels on paper
45 x 33 in / 46 x 34 in